MY TAKE ON THE PARK

LOCATED UNDER A MAZE OF LIGHT TOWERS WITHIN VIEW OF INTERSTATE 40, PRINGLES PARK AWAITS. A GREAT ATMOSPHERE OF PRACTICE FIELDS SURROUND THE
ENTRANCEWAY GIVING THE IMPRESSION THAT A LOT OF PEOPLE WILL LEARN AT THESE FIELDS AND MAYBE SOME DAY PLAY AT THE STADIUM AT THE END OF THE ROAD,
PRINGLES PARK. SADLY, I DON'T THINK ANY OF THEM WANT TO SEE THE PLACE UNTIL THEY PLAY THERE.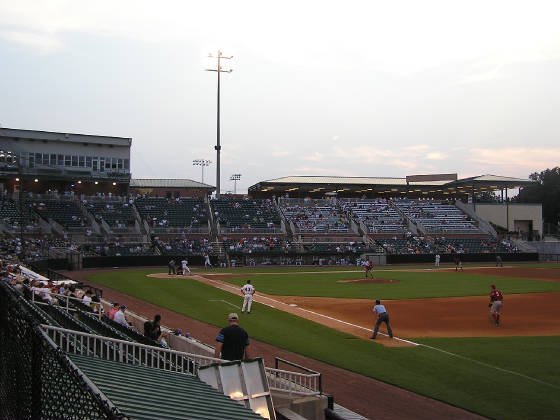 A GOOD LOOKING ENTRANCEWAY AWAITS AND PUTS YOU RIGHT AT THE TOP OF THE
PARK WITH A FULL VIEW OF THE FIELD .. AND INTERSTATE 40. A FREE PROGRAM
IS HANDED TO YOU AND YOU MAKE OUR WAY AROUND THE TOP OF THE SEATING BOWL. REMEMBER, NO MATTER WHERE YOU SIT YOU HAVE TO WALK TO THE TOP OF
THE PARK TO GET CONCESSIONS, GOOD CONCESSIONS HERE AND YOU CAN EVEN PICK
UP A 'CAN' OF POTATO CHIPS.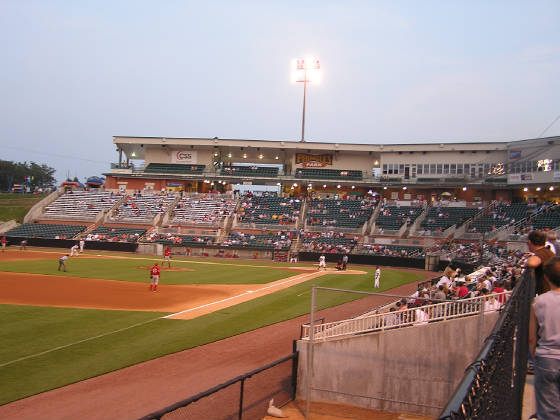 A STAND OUT HERE IS THE PA ANNOUNCER, HE IS CLEAR AND DOESN'T TRY TO BECOME PART OF THE GAME, A REFRESHING CHANGE TO MANY OTHER MINOR LEAGUE
PARKS.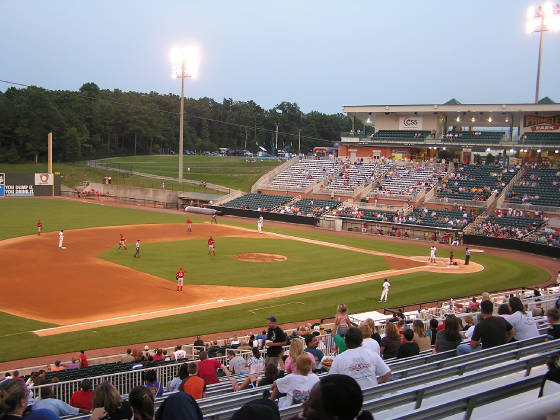 JACKSON TENNESSEE IS HALF WAY BETWEEN MEMPHIS AND LORETTA LYNN'S HOME IN HURRICANE MILLS. TAKING THE TRIP FROM NASHVILLE TO MEMPHIS LORETTA LYNN AND THE DIAMOND JAXX ARE THE ONLY THINGS ALONG THE WAY. SADLY, NOT MUCH
MORE CAN BE SAID ABOUT PRINGLES PARK.

THE PARKING IS FREE, THE PROGRAMS ARE FREE, AND BOTH ARE PLENTIFUL.
THERE JUST ISN'T A LOT TO SAY ABOUT THIS PARK. NO CHARACTER AND THE
SCOREBOARD IS SLOW BUT THE INTERSTATE IS OVER THE LEFT FIELD WALL AND
THE JAXX LOGO IS UP TO PAR WITH THE REST OF THE SOUTHERN LEAGUE.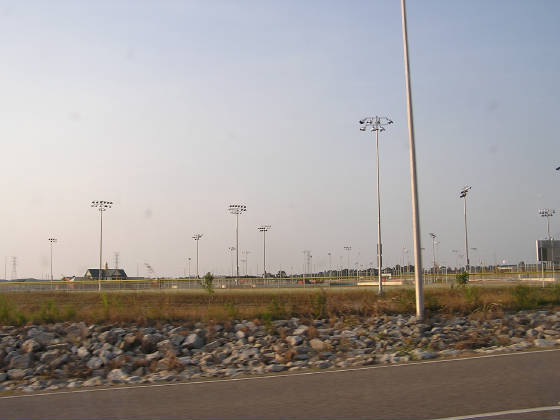 THE LINE UPS
CHATTANOOGA LOOKOUTS MANAGER :::
32 Jayhawk Owens

WEST TENNESSEE DIAMOND JAXX MANAGER :::
4 Pat Listach

CHATTANOOGA LOOKOUTS

2 Javon Moran lf
11 Javier Colina 2b
5 Joey Votto 1b
4 Rick Asadooria rf
27 Chris Dickerson cf
10 Luis Bolivar 3b
13 Anderson Machado ss
29 Miguel Perez c
33 Edward Valdez p / LP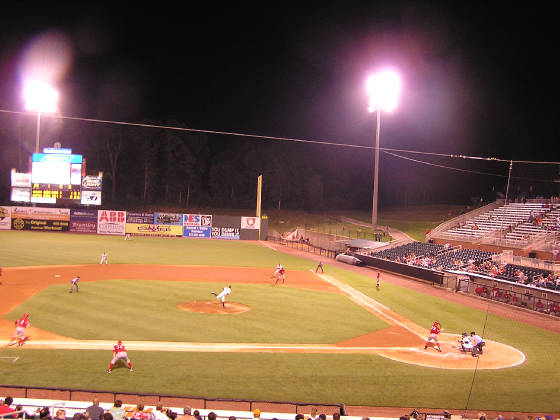 WEST TENNESSEE DIAMOND JAXX

6 Chris Walker cf
3 Eric Patterson 2b
29 Nic Jackson lf
28 Brandon Sing 1b
18 Miguel Negron rf
9 Scott Moore 3b
55 Jake Fox c
24 Gary Cates ss
40 Juan Matteo p / WP
46 Andy Shipman S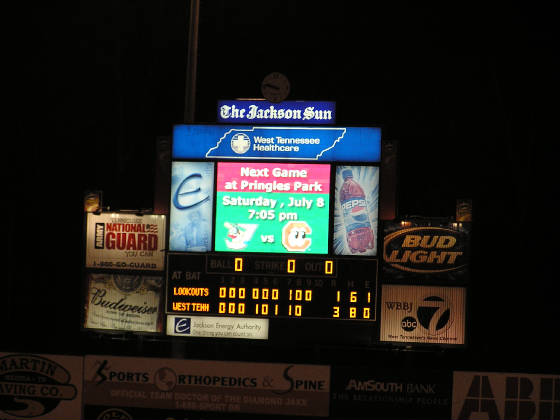 LOOKOUTS 000 000 100 1 6 1
DMND JAXX 000 101 10x 3 8 0

TIME ::: 2:40
ATTENDANCE ::: 1,283
WEATHER ::: 85 CLEAR PERFECT

SEND ME AN E-MAIL